Official Government of Canada Web Sites
English
Citizenship and Immigration Canada
French
Citoyenneté et Immigration Canada


Canada Immigration & Passport Offices
Canada Dept. Foreign Affairs & Trade
dfait-maeci.gc.ca

PassPort Canada Victoria Offices
5th Floor
Scotiabank Building
747 Fort Street
Victoria, BC
Mon-Fri: 8:30 - 16:30



---
Immigrant Settlement Services
Inter-Cultural Association of Greater Victoria non-profit services for immigrants, including:
· ESL for Adults
· Multicultural Programs
· Settlement Programs
930 Balmoral Road, Victoria BC, Canada V8T 1A8
Tel: 250.388.4728
---
See also:
Victoria Business-Corporate Lawyers Listings
---

What's New in BC?

Reference Links for Legal Information

Members of Lawyers-BC.com





Buy or Sell A House / Condo / Business Property with Victoria Realtor Lucy Richardson

>
維多利亞最富經驗和最負盛名的多方語言房產經紀. 連年得獎無數. Hall Of Fame 的得奬人!

LUCY RICHARDSON
Re/Max Camosun Victoria
24 hr. pager
250.744-3301
Email Lucy


Web info: metrotown.info/canada-victoria/real-estate
DAVID AUJLA, B.Sc., LL.B., MA., L.Phil.
David graduated from the University of Western Ontario law school in 1974 and has practised law for over 40 years.

His sole focus of practice since 1996 has been Canadian immigration law and he advises clients worldwide.

He is a member of the Canadian Bar Association (Immigration Subsection) and the Law Society of British Columbia and is often called upon for immigration commentary by the local and national media. He has made presentations, from time to time, to the Canadian Bar Association's Immigration conferences as well as to civic associations and boards and real estate companies throughout Victoria, Vancouver, Vancouver Island and the Gulf Islands.

DAVID AUJLA, Immigration lawyer
Victoria Office
204 - 645 Fort St.
Victoria, B.C. Canada V8W 1G2

Phone: 250.383.3542
website: www.bcimmigration.com

Vancouver Office
2628 Granville St
Suite 247
Vancouver BC Canada V6H 4B4
Phone: 604-630-2244 Toll-free in Canada & U.S. 1.800.818.1373

Phone Toll-free from the U.K.
0.8000.323528
Phone from other countries,
1.250.383.3542

---
PETER GOLDEN, LLB
Canada Immigration Law Services

218 - 852 Fort Street
Victoria, BC
V8W 1H8 Canada
Phone: (250) 361-3131

n.b. in Nov. 2005 the Legal Services Society of BC LSS.BC.CA acknowledged Peter Golden with an Achievement Award "... Peter Golden has been a sole practitioner, primarily in family and immigration/refugee law, in Victoria since 1993. His law related activities include supervising pro bono students, working with students at the Victoria Immigrant and Refugee Centre, and serving as a board member for the Victoria Coalition for Survivors of Torture. He is a founding member of the Collaborative Family Law Group in Victoria and has worked in Central America as a volunteer for human rights" [quote fr. www.lss.bc.ca pdf document news release in 2005]
---
BEATRIZ CONTRERAS, LLB LLM
Beatriz Contreras has been practicing law since 2003. She is fully bilingual - Spanish and English. Her immigration practice has focused in the following areas:
Beatriz Contreras has estado ejerciendo como abogada y notario en Canadá desde el año 2003. Beatriz es bilingü (inglés-español). Su experiencia en casos de inmigración se ha enfocado en las siguientes áreas:
Sponsorships (Patrocinios)
Humanitarian and Compassionate Applications H & C (Solicitudes for razones humanitarias)
Refugee hearings (casos de revisión de detención)
Judicial review applications at the Federal Court (apelaciones a la corte federal y en la división de apelaciones de inmigración)
Immigration Appeal Division hearings
Pre-Removal Risk Assessment Applications PRRAs (solicitudes de PRRA)
Detention reviews, etc. (casos de revisión de detención)
During the course of her practice, Beatriz has successfully represented clients from numerous cultural backgrounds and has worked closely with the Latin-American community.
Beatriz ha representado exitosamente a clientes de diferentes etnias y ha trabajado con la comunidad hispana.
Beatriz is fully bilingual in English and Spanish.
Beatriz es originaria de El Salvador y domina a la perfección los idiomas inglés y español.
BEATRIZ CONTRERAS, Barrister &amp Solicitor,
Contreras McLennan Legal
3957 Stan Wright Lane
Victoria, BC V8P 0A1
Tel. 778-440-3588
Website: contrerasmclennan.com/immigrating-to-canada
---
Robert Y. C. Leong

Robert read Law in England, and was Called to the Bar of England and Wales through the Middle Temple in 1993.

He was admitted as an Advocate and Solicitor in his native Singapore in 1994, and practised civil litigation, family law, and conveyancing for about 15 years. He was an elected member of the Law Society Council, and also tutored Business Law at the Nanyang Technological University.

After immigrating to Canada, Robert obtained his Immigration Consultant Diploma with Honours in 2010, and was admitted as a Barrister and Solicitor in British Columbia in 2011. Since then, Robert has been active as an immigration lawyer in British Columbia, and was the Secretary of the Canadian Bar Association (BC Branch) Immigration Section (2013/2014).

Robert has given talks and seminars on immigration law to various audiences, including other immigration lawyers from across Canada. These talks and seminars include:

Jun 2011 "New Temporary Foreign Worker Regulations" : People's Law School, Vancouver, B.C.
Sep 2012 "BC Provincial Nominee Program – Business Immigration": Asia Pacific Expo, Burnaby, BC
Oct 2012 "Residency Obligation/Sponsorship": MOSAIC, Vancouver, B.C.
Jan 2013 "Immigration to Canada – Skilled Worker/Business": Immigration Seminars, Singapore
May 2013 "Maintaining PR status/ Citizenship application": Three Bridges, Vancouver, B.C.
May 2013 "Conflict of Interests/Referral Fees": National Immigration Law Conference, Montreal, QC
Aug 2013 "Sponsorship of a Family Member": West Broadway Lawyers, Vancouver, B.C.
Sep 2013 "Work Permit Applications": Continuing Legal Education course, Vancouver, B.C.
Nov 2013 "Sponsorship of a Family Member": MOSAIC, Burnaby, B.C.

Robert has also appeared on various TV programs and radio broadcasts, and has contributed articles on immigration law:

Sep 2012 "Recent changes to immigration law": Expert's Hour, TalentVision
Jan 2013 "Residency issues and renewing your PR card": Living Q & A, Fairchild Radio FM96.1
Mar 2013 "Evidence": Expert's Hour, TalentVision
May 2013 "Sponsorship of Parents and Grandparents": Living Q & A, Fairchild Radio FM96.1
Sep 2013 "Residency in Canada": Quarterly Newsletter, Vancouver Singapore Club

英 语 · 中 文 · 普 通 话 · 廣 東 話

Robert Y. C. Leong
Lowe Company
Immigration and Business Lawyers
Tel: 1 (604) 875-9338
Suite 900 – 777 West Broadway
Vancouver, B.C.
Canada V5Z 4J7
Website: CanadaVisaLaw.com
---
Pro bono ads based on lawyers-bc.com network referrals 2009.02.15
---
LISTING CORRECTIONS & Topics of interest for Business Immigrants
NB
If you notice an error or omission in your listing above contact us at site admin for Lawyers-BC.com
ROSE KEITH, J.D., BC Employment Law Lawyer
Attention Business Immigrants to BC If you are setting up a business and becoming an employer, read Rose Keith's article about how to plan for a working enviroment that prevents wrongful dismissal law suits.*
go to BusinessMatrix.com/ca-bc-employment/employment-law-plan... Employers: "Reasons to Call Your Employment Lawyer Before You Think You Need Them" Barrister & Solicitor, Trial Lawyer
Personal injury Claims · Wrongful Dismissal / Employment Law · Contractual Disputes · Civil Litigation
Vancouver, BC, Canada V6E 2Y3
Telephone: (604) 669-2126
Website: www.rosekeith.bc.ca


---
See also updated 2004 general listings of Vernon BC lawyers practising personal injury law
---
1 - 20 of results displayed - more listings to be added as directory being updated [2013.10.04 ].
Vancouver BC Lawyers - Preferred Areas of Practice & Specialization Directory - Lawyer Updates 2008
| Business Incorporation | Canada Immigration | Class Action | Car Accident / Personal Injury | Computer / Intellectual Property | Criminal Defense | Incorporation - Business | Insurance | Medical Malpractice | Real Estate | Wills Estates & Trusts |
Vancouver Personal Injury Lawyers - BC Canada
Vancouver Class Actions Lawyers - BC Canada
see listings of Class Action Lawyers dealing with potential class action areas of Competition Act Violations · Securities Fraud · Products Liability · Labour & Employment · Environmental Problems
read introduction article on class action law in BC
see Class Action FAQ's (Frequently Asked Questions)
Criminal Law - Defense Lawyers
Introduction to Criminal Law Presumption of innocence / Right to remain silent / Proof beyond a reasonable doubt / Due process / Kinds of criminal offences
Vancouver Canada Immigration Lawyers - BC Canada
BC Incorporations
Vancouver Computer Law - Intellectual Property "IP" Lawyers - BC Canada
Vancouver and BC General Insurance Lawyers - BC Canada
see listings of Vancouver General Insurance Lawyers
including: Professional Negligence & Medical Malpractice Insurance, Product Liability, Directors Insurance Law & Class Actions
Vancouver Real Estate / Conveyancing Lawyers - BC Canada
Vancouver Wills, Estates and Trusts Lawyers - BC Canada



| About Us Lawyers-BC.com | E-mail Us | Site Map | Legal Areas | What's New | Top of Page |

LEGAL DISCLAIMER:

The information provided on Lawyers-BC.Com is not intended to be legal advice, but merely conveys general information related to legal issues commonly encountered. Your access to and use of this Web site is subject to additional terms and conditions.

© copyright 1999 - 2009Lawyers-BC.com Services Ltd. Vancouver, BC, Canada



Original Web site design by Charis Infocom 1998
Page last updated: 2010.05 , 2009.03.06 NetPac.com Vancouver, BC and CanadaLegal.info
Sarah N. Goodman,
B.B.A., J.D.
Osgoode Hall Law School, Toronto, Juris Doctor, 2010
York University, Schulich School of Business, Bachelor Business Admin. (Hons), 2007
Fluent in English & French
Our firm provides a wide range of personalized immigration consulting and representation services. We take a great deal of pride in helping Canadian businesses succeed by addressing their human resource needs and in assisting individuals and families relocate to Canada. Providing our clients with effective and efficient service is our primary goal.
Each case is unique and each type of immigration application has specific pre-requisites, experience and documentation requirements. Accordingly, our job is to determine the most suitable type of application based on your particular circumstances and to facilitate the application process by completing forms, compiling documents and making submissions to the appropriate government body on your behalf.
The following is a list of areas we can assist with:
Work Permit Applications
see article on Temporary Foreign Workers Options in 2015
Study Permit Applications
Visitor Record and Visa Applications
Express Entry Applications for Permanent Residence see article on how this system is working - at CanadaImmigration.asia
Provincial Nominee Program Applications
Investor Applications
Labour Market Impact Assessment Applications
Temporary Resident Permit Applications
Family Class Applications, and
Humanitarian and Compassionate Applications
Live-In and In-Home Caregiver Applications,
Criminal Rehabilitation Applications, and
Immigration Appeals
Sarah N. Goodman
Barrister & Solicitor
Crease Harmon LLB
VICTORIA
#800 – 1070 Douglas Street
PO Box 997
Victoria, BC
Canada V8W 2C4
and COURTENAY
350 17th Street, Second Floor
Courtenay, BC
Canada V9N 1Y4

CONTACT
Phone: +1 (250) 940-6090
Email: sgoodman@crease.com

Web site: https://www.immigrationlawyerbc.com/
Web site: http://creaseharman.com/sarah-goodman/
---
SINCLAIR W. MAR, Barrister & Solicitor

* Personal Injury & Insurance Law

* Real Estate & Conveyances

* Divorce & Family Law

* Mortgages & Foreclosures

* Corporate & Commercial Law

* Canada Immigration Law-Legal Services

"He has practiced immigration law for the past 25 years in all areas, including visas and permanent residency applicaitions. He presently works with clients from many countries. He is very community minded: .... is on the board of the Knowledge Network (BC), Victoria Dragon Boat Festival Society, Victoria Chinatown Care Foundation, Victoria Chinese Commerce Association, ... He is serving as counsel for the Victoria Hoi Ping Association .... He has been instrumental in raising funds for various schools in support of music in schools and local youth sports and athletes. In 2009 he was awarded the CFAX [RADIO STATION] Community Leader of the Year Award." [quote fr. website 2009.06.15]

Manhas Mar, Lawyers
#301 - 830 Shamrock St.
Victoria, BC V8X 2V1
Phone: (250) 382-5744
Website: ManhasMar.com
Email: Mar@manhasmar.com

see Chinese-English ad in Chinatown Newsletter, published by the Victoria Chinese Consolidated Benevolent Association CCBA
---
JAMES TURNER
Canada Immigration Lawyer, who since 1987 has assisted clients from over 75 countries come to Canada.

#400 - 888 Fort Street Victoria, BC
Canada VH@ 1H8
Phone: 250-590-3560
Web site: TurnerImmigration.com
nominated by happy
Bulgarian client Chris. Tdrv
---

CanadaTradeJobs.com
for Employer / Employee Assistance with Canada Work Permits / Visas for Skilled Trades People and their families
see also
Lowe & Company Immigration Business Lawyers
Vancouver website CanadaVisaLaw.com This law firms lawyers, notaries and immigration consultants and support staff are fluent in Mandarin, Cantonese, and Japanese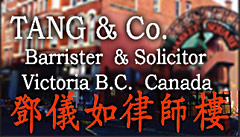 PORTIA TANG, Barrister & Solicitor
Provides a general law practice in downtown Victoria -- serving clients in English & Chinese dialects: Cantonese, Hoisin & Mandarin -- in the following areas of law.
Business · Corporate · Commercial Law
Family · Divorce Law
Wills & Estates
Canada Immigration Law
Real Estate
Notary Services

TANG & CO., Barrister & Solicitor
#316 - 560 Johnson Street,
Market Square on Johnson- 3rd floor
Victoria, BC, V8W 3C6
Telephone: 250-881-6262
---
Victoria Full Service & Boutique Law Firms
LARRY WONG, LL.B. Barrister & Solicitor
General Practice Includes: Canada Immigration Law · Real Estate Conveyancing · Wills & Estates · General-Administrative Law · Civil Litigation ·
Larry Wong is a Victoria native who established his own law firm in Victoria's Chinatown in 1984. Larry graduated from the University of Victoria Law School in 1978 and was called to the Bar of British Columbia in 1979.
Accompanied by his legal assistant, Frances Leung, Larry offers his services in English and Chinese (Cantonese and Mandarin and Toi Shan dialects).
Larry is active with the Victoria Chinatown Lions Club (past president). He was for six years a director of the Chinatown Care Centre. He is currently the legal advisor for the Yu Shan Association, the Hook Sin Tong Society, the Wong Association, the Victoria Chinese Pentecostal Church...
Wong Doerkson Lawyers
1618 Government Street
Victoria, B.C., V8W 1Z3
Telephone: (250) 381-7799

E-mail: lwong@wongdoerksen.com
Web site: WongDoerksen.com
---
Victoria Civil Litigation Laywers:

Lorenzo Oss-Cech, BSc LLB is fluent in Italian, French and Spanish.
Personal Injury ICBC Catastrophic Injuries Disputes
- experienced brain injury lawyers

Medical Malpractice & Professional Negligence

Sexual Assault · Civil Suits

WCB appeals
HUTCHISON OSS-CECH MARLATT
Barristers & Solicitors
#1 - 505 Fisgard St.
Victoria, B.C.
Canada V8W 1R3
www.hom-law.com
Toll Free: 1-866-887-4878
Victoria Tel: (250) 360-2500


see also Article in CanadaLegal.info by Rose Keith

"Have you been wrongfully dismissed? Your employment contract terminated? Experienced wrongful resignation? An introduction to employment contract law by BC Lawyer, Rose Keith who in 2007 was the President of the Trial Lawyers Association of B.C. "


See our detailed downtown Vancouver street map to Courts


RETURN TO HOME PAGE Lawyers-BC.com



---
Buy or Sell A House / Condo / Business Property with Victoria Realtor Lucy Richardson
維多利亞最富經驗和最負盛名的多方語言房產經紀. 連年得獎無數. Hall Of Fame 的得奬人!

LUCY RICHARDSON
Re/Max Camosun Victoria
24 hr. pager
250.744-3301
Email Lucy


Web info: metrotown.info/canada-victoria/real-estate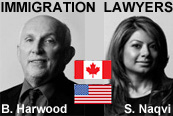 Vancouver Business immigration lawyers
for Canada and USA Immigration Services Bruce Harwood, MA LLB
&
Saba Naqvi, BA JD
Commercial Leases
Civil Litigation
Employment Standards
Family Law
Human Rights
Immigration - Refugees
Partners and Shareholders
Probate and Estates
Trademarks